For Portland Homeowners who are seeking to maximize rental potential without sacrificing build quality. Our Small ADU is a great structure with a minimal footprint that fits most Portland properties. Starting at just $95,000. The Small is packed with amenities and built for efficiency.
12′ x 24″ (288 sqft)

Multi-Use Design

Generate Rental Income
Benefits of selecting a pre-designed ADU for your Backyard
Fixed Project Cost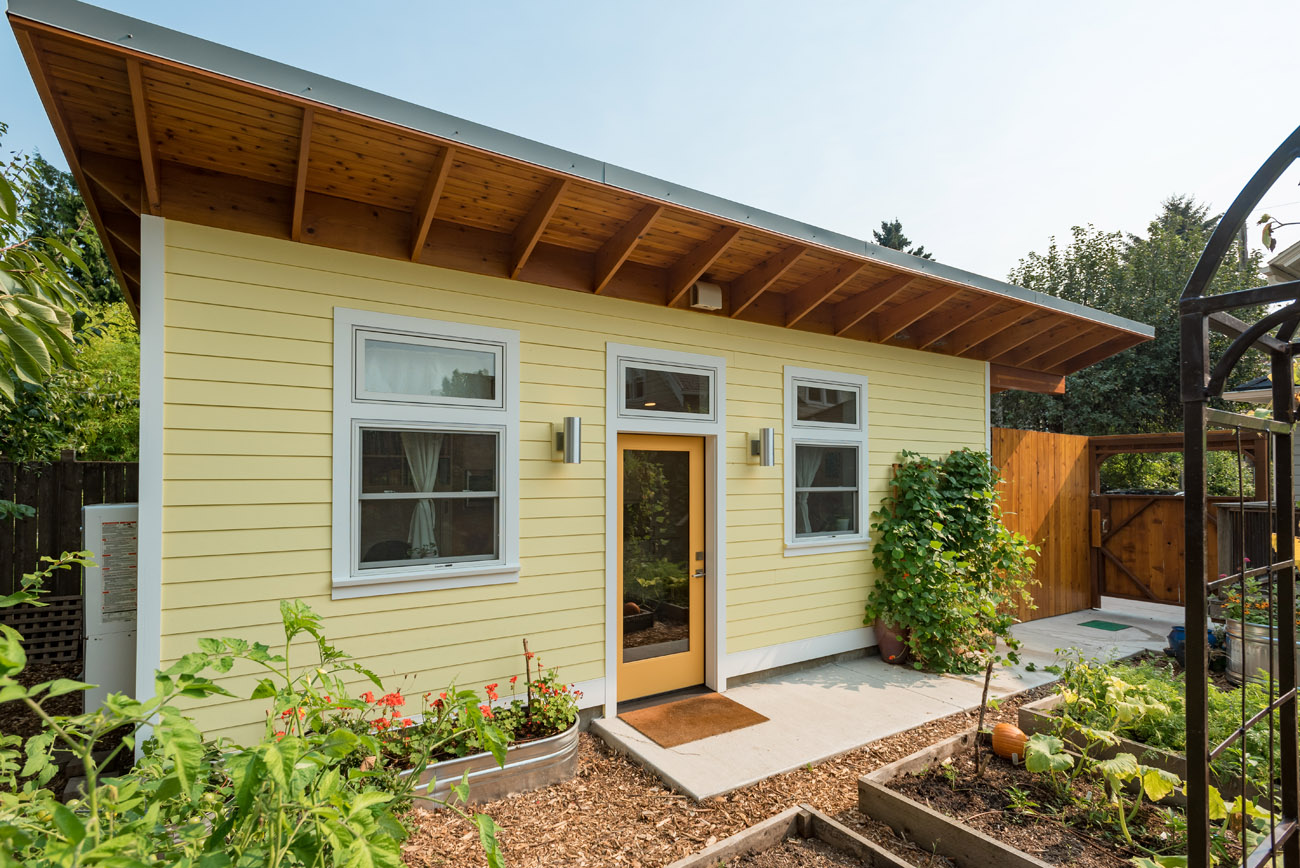 Our turn-key solution includes architectural design, permits, construction, appliances, and a project manager
Fast and Efficient
Removing the custom design period speeds up the permit process to gets you cash flow positive in the shortest amount of time.
Customizable Finishes
Get the look you want with finishing options for siding, exterior color, flooring, cabinetry, countertops, lighting, and more!
Designed for Maximum Flexibility
With a built-in Murphy bed, the space can adapt to your immediate needs and evolve over time. Build Smart!
The proven design utilizes a small footprint with comfortable interior amenities
Build Smart Right From The Start
Standard Features
Our experience designing and building ADUs brings us to our pre-designed model with design elements and amenities you would expect from a custom build.
2″x6″ Advanced Framing with Mineral Wool Insulation
Hardy Plank Siding with 6″ Reveal
Stacked Laundry Washer & Dryer
Minisplit heating and cooling energy star high performance
ERV – Energy Recovery Ventilator
Earth Advantage Certified
FSC and Locally Sourced Lumber
Connection to existing home utilities
Fotile in-counter dishwasher
We love to meet up with fellow travelers and explore areas together. The adventure is not only about the area you are checking out, but the people you are checking it out with.
Using the information you provided on the contact form; we conduct a feasibility search to see if your property is a good fit for an ADU.
If buildable, we'll reach out to schedule a site visit with one of our ADU experts. They will discuss the project with you and by the end of the meeting, you will have an all-in price.
We provide a wide array of options as well as available upgrades. We'll get these finalized before we submit the permit application.
Some of the building options:
Building Orientation
Exterior Paint Color
Interior Wall Color
Cabinet Color
Countertop Material
Flooring Material
Upgrade Options:
Deck
Skylight
Appliance Grade
SQFT Studios will submit the permit and manage all aspects of the process. The permit cost is included in the price.
Groundwork – Define the location of the ADU. Excavate and protect the property from erosion.
Foundation – Pour concrete foundation and connect utilities.
Structure – Wood Framing is completed on site.
Roofing – Install standing seam metal roof.
Siding – Wrap and Sheath ADU with Hardy Plank siding
Doors & Windows – Install new Doors and windows
Plumbing – Tie in supply and drain to city code.
Electrical – install new fuse box and tie in to existing home.
Insulation – install rock wook insulation for maximum comfort and improved performance.
Drywall – once approved by inspector we drywall, tape and smooth the entire structure.
Finish Electrical and Plumbing – Add all the 0utlets, switches, sinks, faucets, showerheads and lightiung.
Paint – Using Low/No VOC paint we'll put the finishing touches on your ADU
When the project is complete we'll hand over the keys. We guarantee our work for 1 year. We'll check in with you after a short while to get your feedback.
Take the first step and see if your property qualifies for The 288 sqft ADU. We'll review the information and set up a meeting to discuss the project.